3D assembly videos of cabinet systems
Furniture construction explained as a 3D animation
Raumplus GmbH is a manufacturer of sliding doors, room dividers and cabinet systems. Several 3D animated assembly videos should be created for a new cabinet system. It was important to Raumplus from the start that they wanted to have professional installation videos produced. Therefore, when producing the assembly videos, great importance was attached to ensuring that the videos are attractively designed. Several assembly videos from the furniture construction area were created for Raumplus. Since the focus is on the door hinges, fittings, rails and doors, the videos were produced on a neutral light background. The installation situation, the walls and the body of the wall cupboards were designed neutrally.
Example - 3D assembly video aluminum frame revolving door for a wall cabinet
The assembly video begins with a representation of an exploded view. This means that the individual parts of the revolving door can be seen. It then shows in detail how the cabinet door is assembled. Aluminum profiles are cut, milled, drilled and finally screwed together with the help of angles. Door hinges are inserted, connected to the cabinet body and correctly adjusted.
Implementation of video production - 2016
From the illustrated storyboard to the finished assembly video
At the beginning of the animation creation there is a coordination with the customer. What should be shown? Which assembly steps are important? What should be explained in detail? All of these questions flow into a first rough brief description of the process. An illustrated storyboard is then created on this basis. In this storyboard, all important assembly steps are already shown as they can be seen in the later animation. As a customer, you can see in advance what the later video will look like and, if necessary, incorporate correction requests.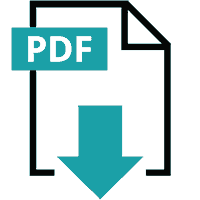 Storyboard-assembly-video-aluminum-frame-revolving-door.pdf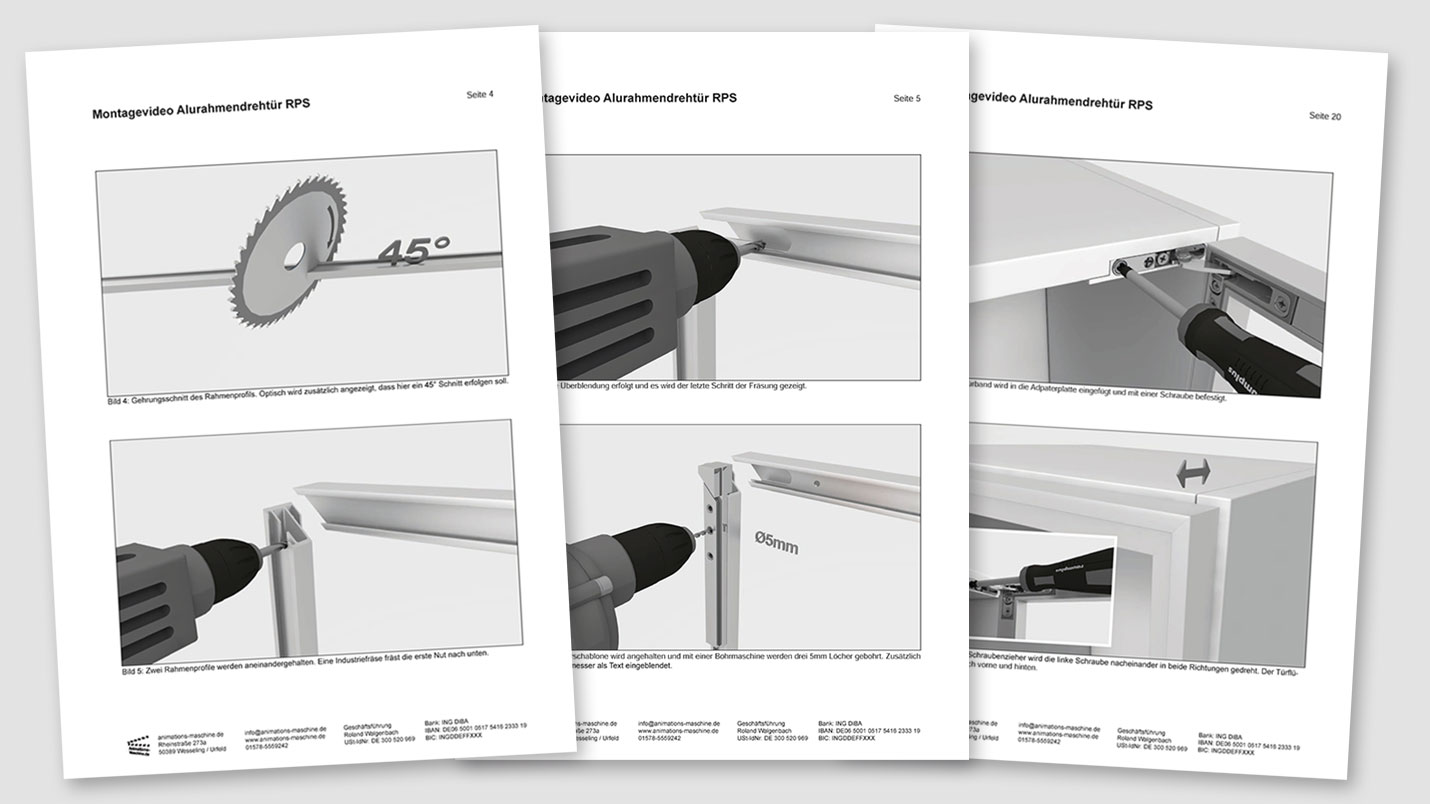 Excerpt from a storyboard for an aluminum frame revolving door
Example - 3D assembly video of a folding door of a sliding door system
In this assembly video, two doors are assembled to form a folding door. This folding door also shows how it can be set and adjusted.
Implementation of video production - 2016
Example - 3D assembly video of a revolving door of a sliding door system
Similar to the first assembly video, an exploded view and assembly is shown at the beginning. The revolving door is then installed in a room and adjusted.
Implementation of video production - 2016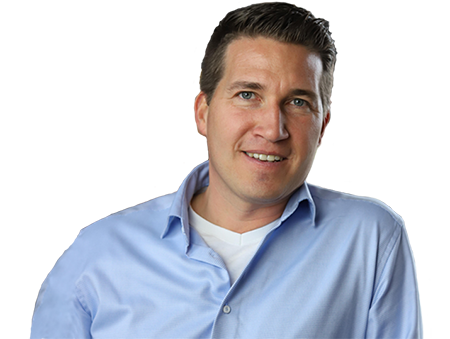 Free initial consultation
Are you looking for a 3D agency that also explains your technical product with a 3D assembly video? But you don't yet know whether this will work for you and your product? The Animations-Maschine offers you a free initial consultation. Let's just talk about your product and project. Together we will work out an ideal solution for your project. You then decide in your own time whether you want to finally have a 3D animation or an assembly video produced.
Arrange an initial consultation now
Example - 3D assembly video sliding door brake
At the beginning of the assembly film, the assembly of the sliding door brake on an existing cabinet door is shown. Then it is shown in detail how a cabinet door is adjusted so that gentle braking is ensured when the door is closed.
Implementation of video production - 2016
3D assembly video of a cabinet door with integrated television
There is a sliding TV door to integrate a television into a sliding door of a cabinet. The 3D animated assembly video explains how such a sliding door is assembled and how the recording of a television set works. The 3D video shows exactly how dimensions are transferred from the TV bracket to the aluminum support rails of the cabinet door. The cable management behind the cabinet door, which must also cover the movements of the door, is also discussed.
Implementation of video production - 2019
Let create your own professionally 3D assembly video
Do you also have products from the area of furniture construction, hinges, furniture accessories, cabinet systems, furniture industry or generally interesting technical products? If you want to have your products explained and are looking for a 3D animation agency, then I am your partner and will be happy to help you. Contact me and together we will create a suitable animation video, mounting video or assembly animation for your purpose. Precisely tailored to your products and requirements.
Contact now
Services rendered in creating the assembly video
CAD data import

CAD model creation

Texturing

Storyboard creation

Animation creation

Rendering

Text overlays

Music integration

Post production

Provision in various video formats