3D application videos of connection technology
Simply presented with the help of animations
The Jordahl company specializes in high-quality and individual products for fastening technology, reinforcement technology, connection technology and facade fastening. In addition to several visualizations for a product catalog, 3D application videos of the assembly technology were also created.
3D application video of a connector plate for precast concrete parts
A 3D application video was created for a new connecting strap for the precast industry. With a new type of connecting strap, precast concrete parts such as columns can be connected to wall elements. This connection can both absorb high loads and also compensate for mounting tolerances.
These properties were presented as a 3D animated application video. The simple assembly of the connecting strap in prefabricated concrete parts is shown to advantage in the video.
Implementation of video production - 2016
Low production costs - quick implementation
The production costs for the 3D animated video are significantly lower than a real shot video. Especially the representation of the construction of a complete hall could be implemented very quickly thanks to the use of 3D visualization. A complete production hall is assembled in 3D in a very short time.
Surrounding scene - construction site
It was very important to the customer that the video played on a construction site scene. For this purpose, in addition to the production hall, construction cranes, containers, fences and other construction machines were used. This gives the video and the actual product visualization the necessary framework and rounds off the presentation.
Depth of field was used as a special technical feature in the animation. The focus is shifted to the product through the targeted, blurred display of background elements.
3D application video of mounting rails
The different application possibilities of mounting rails are visualized in this video. The first fastening solution shows how a mounting rail can be screwed to the wall with heavy-duty dowels. As a second option, the mounting rails can also be welded onto a metal carrier. As a special technical feature of the 3D animation, the flying sparks of the welding machine were animated here. Smoke rises, sparks fly.
At the end of the 3D video, a mounting rail with teeth is shown. A detailed view shows the inside of the rail. It shows how the teeth interlock. Such a representation can be optimally represented in 3D animations.
Implementation of video production - 2017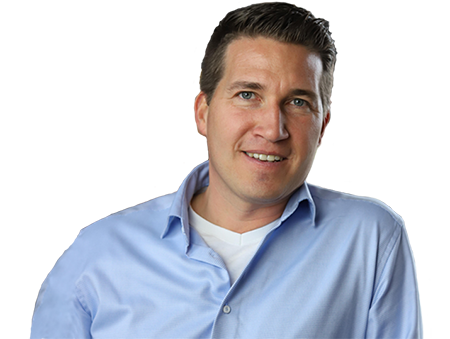 Free initial consultation
Are you looking for a 3D agency that also explains your technical product with a 3D assembly video? But you don't yet know whether this will work for you and your product? The Animations-Maschine offers you a free initial consultation. Let's just talk about your product and project. Together we will work out an ideal solution for your project. You then decide in your own time whether you want to finally have a 3D animation or an assembly video produced.
Arrange an initial consultation now
From the illustrated storyboard to the finished animation video
At the beginning of the animation creation there is a coordination with the customer. What should be shown? Which assembly steps are important? What should be explained in detail? All of these questions flow into a first rough brief description of the process. An illustrated storyboard is then created on this basis. In this storyboard, all important assembly steps are already shown as they can be seen in the later animation. As a customer, you can see in advance what the later video will look like and, if necessary, incorporate correction requests.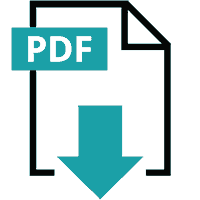 Storyboard-Application-Video-Connection-Tab-JVB-V.pdf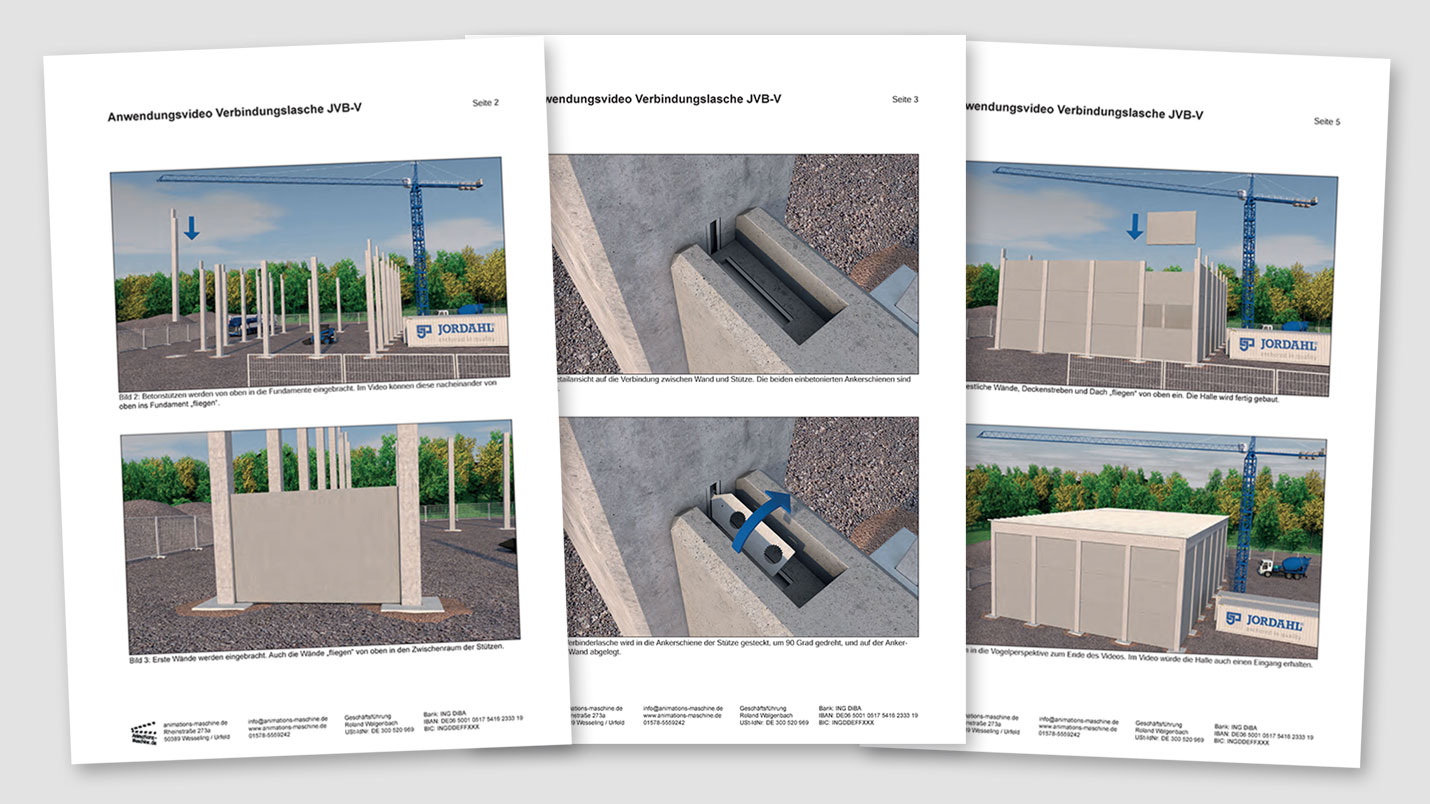 Excerpt from a storyboard for a connection tab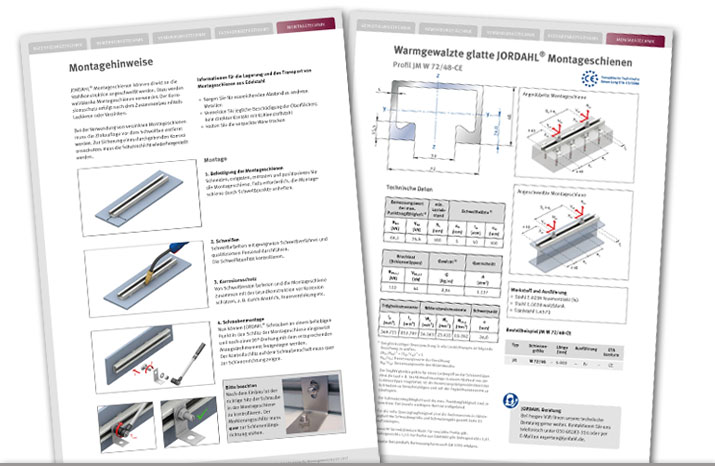 Let create your own professionally 3D animation video
Do you also have products from the field of connection technology, hall construction, precast concrete parts, production halls or generally interesting technical products? If you want to have your products explained and are looking for a 3D animation agency, then I am your partner and will be happy to help you. Contact me and together we will create a suitable animation video, mounting video or assembly animation for your purpose. Precisely tailored to your products and requirements.
Contact now
Services rendered in creating the animation video
CAD data import

CAD construction

CAD model creation

Texturing

Storyboard creation

Animation creation

Rendering

Text overlays

Post production

Provision in various video formats