3D visualization for fire protection
Show product advantages as a 3D illustration
Thanks to a 3D visualization, the advantage of a fire protection cap can be quickly demonstrated. In order to visually show the difference between the installation of light sources with and without a fire protection cap, the customer wanted a visualization of his protective cap for a print advertisement in a trade magazine. On the left you can see the situation without the protective cap. On the right side then with a protective cap. Thanks to the 3D visualization, two separate situations can be shown in one image as a sectional view.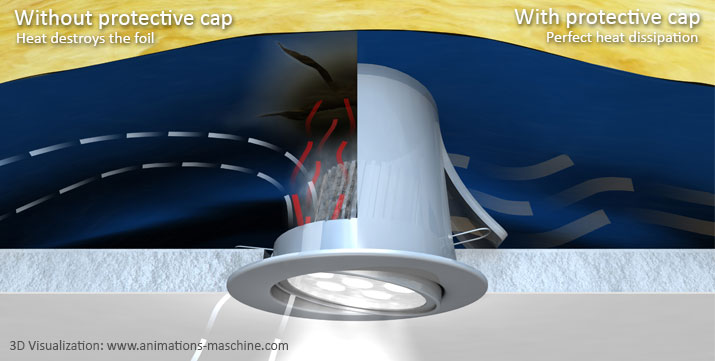 Have 3D visualizations of product benefits created
Do you also have products from the field of fire protection, security systems, building protection, thermal insulation or generally interesting technical products? If you want to create 3D visualizations of your products and are looking for a 3D visualization agency, then I am your partner and will be happy to help you. Contact me and together we will create a suitable visualization, illustration or image for your purpose. Precisely tailored to your products, requirements and corporate design.
Contact now
Services rendered in the creation of the 3D visualizations
+CAD data import +Texturing +3D Visualization +Rendering +Compositing +Provision in various image formats