Explainer video - Company mascot explains doorbell assembly
2D comic figure turns customers into mounting specialists with the help of 3D animations
At the Türklingel-Shop, customer inquiries about the correct mounting of the doorbell switches from the online shop increased. The idea arose to develop a funny mascot that explains the most frequently asked questions from customers. Staggered in several explanatory films, questions that arise again and again should be clarified in motion graphics style. And this in a relaxed and humorous way. In addition to explaining the correct assembly, the customer's request was that these tutorial videos could also be used for social media.
Mounting different doorbells simply explained
The first clip deals with the question of what different types of mounting there are and how these are correctly implemented. In addition, there were already finished 3D animations of previously created mounting videos. These were combined with the explanatory 2D comic figure and the first tutorial video was ready. Always alternating - 2D character Türklingel-Bob (Doorbell-Bob) speaks - 3D animation shows the correct mounting.
Implementation of video production - 2020
Character development for motion graphic explainer video
At the beginning of the project implementation was the development of a suitable character. The customer's request was a figure that reflected normal craftsmen and DIY enthusiasts, and should also be cheeky and funny. The Animations-Maschine then developed the character "Türklingel-Bob" in coordination with the customer. The first drafts quickly met the customer's expectations.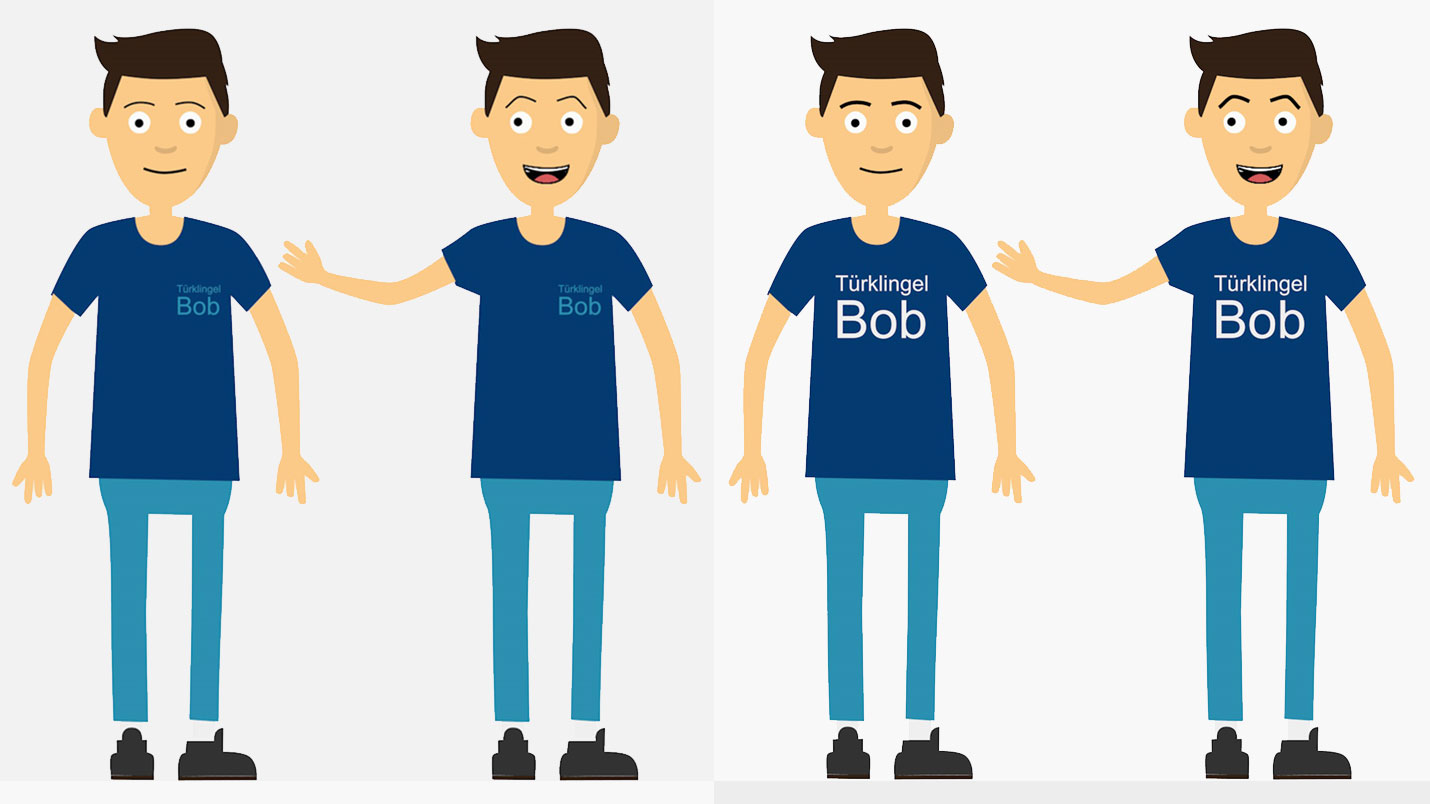 Character development for explainer video
From storyboard to voice recording
The customer provided an approximate process description for the problem of the respective topic of the explanatory video and what exactly should be explained in the tutorial video. The Animations-Maschine then developed a storyboard including the exact texts that should be spoken later. These narration texts served as a template for the voice recordings. The company headquarters in the Westerwald (Region in Germany) is reflected in the mascot's voice and dialect and looks more authentic. After these had been recorded, the animation was coordinated exactly with it. The route is the goal.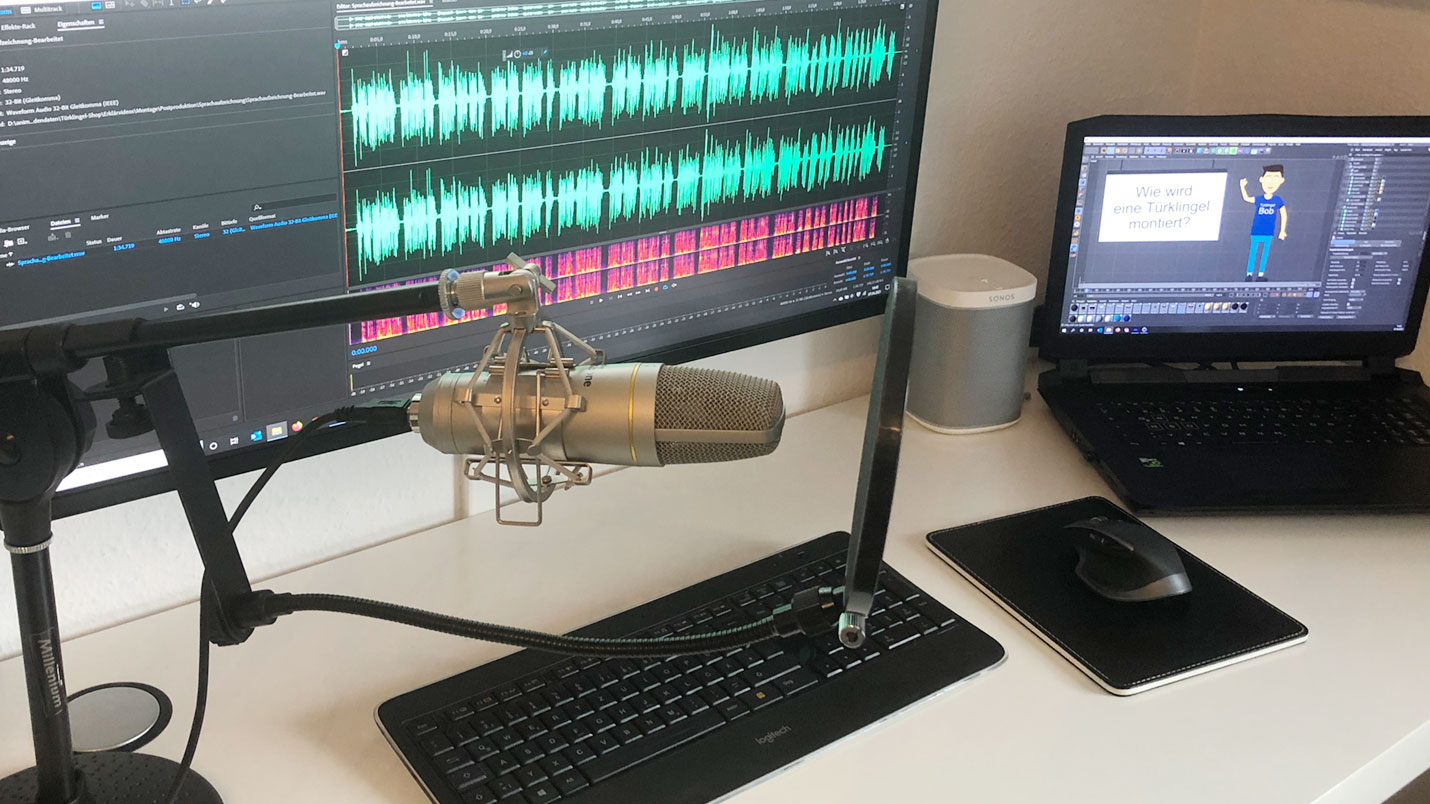 Voice recording for explanatory video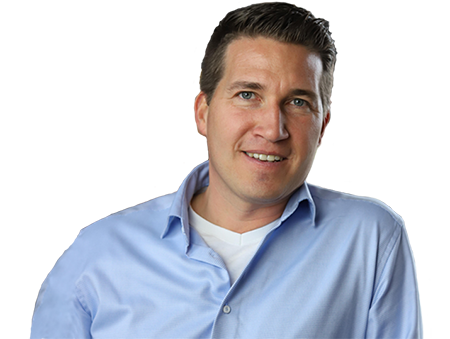 Free initial consultation
Are you looking for a 3D agency that also explains your technical product with a 3D explainer video? But you don't yet know whether this will work for you and your product? The Animations-Maschine offers you a free initial consultation. Let's just talk about your product and project. Together we will work out an ideal solution for your project. You then decide in your own time whether you want to finally have a 3D explainer video or an assembly video produced.
Arrange an initial consultation now
Wiring of doorbells with and without LED ring lighting
In the second clip, different wiring options were described. Depending on the situation when building a house on site, there are bell lines with 2, 3 or even 4 wires. If the bell is then to be illuminated by LEDs, different connection variants and bridges are used. Everything was explained in a very simple, easy-to-understand and funny way. The 3D animations required for this were also produced in order to visualize the complicated assembly.
Implementation of video production - 2020
Let create professionally character video produced with a mascot
Do you also have products from the field of house construction, installation technology, locking technology and security technology or generally interesting technical products? If you want to have your products explained and are looking for a 3D animation agency, then I am your partner and will be happy to help you. Contact me and together we will create a suitable animation video, mounting video or assembly animation for your purpose. Precisely tailored to your products and requirements.
Contact now
Services rendered in creating the assembly video
Character design comic figure

Texturing

Storyboard creation

Animation creation

Rendering

Text overlays

Voice recording

Voice integration

Music integration

Post production

Provision in various video formats