3D assembly videos of mounting systems for roof constructions
Securants and solar systems simply mounted
Wittenauer GmbH is a specialist for roof and facade construction and has developed its own mounting system for elevated roof structures. This mounting system can be used for a trapezoidal sheet metal, concrete or wooden roof and offers attachment points of superstructure roofs, as well as mounting options for solar systems, air conditioning units, walkway gratings or even radio masts. How easy the mounting is step by step, the Animations-Maschine explains with the help of 3D animated mounting videos.
3D assembly video mounting system for elevated roof construction
To explain the assembly of this special elevated mounting system, the beginning of the video shows how the mounting pipe is screwed onto the trapezoidal sheet of a flat roof through the bitumen sheet with the help of a bracket. Insulation and foils are then laid and supporting structures are screwed on via brackets, in order to attach solar systems or air-conditioning units to the roof in this way. As a further animation, the installation of an aluminum panel facade system was explained in the 3D video. It sounds complicated, but it can be so simple.
Realization video production - 2021
From illustrated storyboard to finished assembly video
At the beginning of the animation creation there is always an agreement with the customer. What should be shown and how? Which assembly steps are important? What should be explained and visualized in detail? All these questions are included in an initial rough description of the process. Based on this, an illustrated storyboard is then created. In this storyboard, all important assembly steps are already depicted as they will be seen in the later animation. You as the customer can therefore see in advance what the later video will look like and, if necessary, incorporate any correction requests.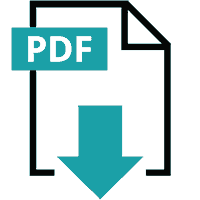 Storyboard-assembly-video-mounting-system-Roof-PIN-A.pdf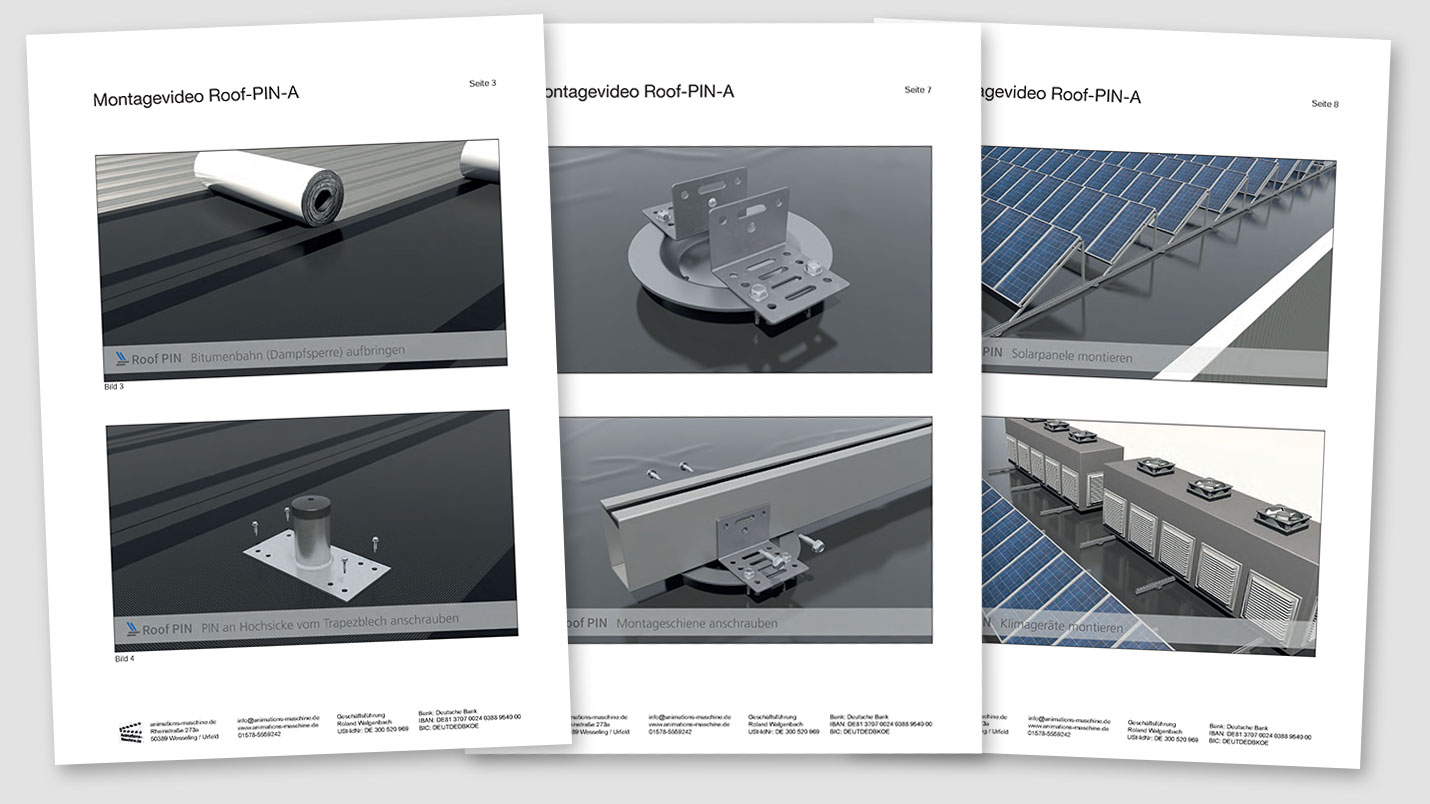 Example storyboard 3D assembly video mounting system for elevated roof construction
Integration of photos into 3D animation
The customer wanted to integrate real photos of one of his reference objects into the 3D assembly video. In the reference object, special aluminum frames were installed on a design roof with a honeycomb structure. There was even a 3D model of the elaborate roof construction, which could be imported and used in the animation. After the assembly is explained, the camera is guided exactly into the viewing angle of the first real photograph and the real pictures are faded in one after the other by cross-fades at the end of the video.
Transition from 3D model to photo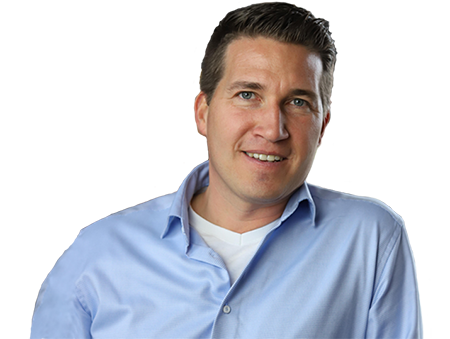 Free initial consultation
Are you looking for a 3D agency that also explains your technical product with a 3D assembly video? But you don't yet know whether this will work for you and your product? The Animation-Maschine offers you a free initial consultation. Let's just talk about your product and project. Together we will work out an ideal solution for your project. You then decide in your own time whether you want to finally have a 3D animation or an assembly video produced.
Arrange an initial consultation now
3D installation video of fastening securants on a flat roof
This installation video is the second one from the same product group. Since the products are very similar, some animation steps could be taken over from the first video and reused with slight modifications. Which always has a positive effect on production costs. In this product variant, securants are mounted on a flat roof, which is intended to prevent people from falling during roof work. At the end of the installation video, it is shown how a steel cable runs through the safety barriers at the edge of the industrial hall, thus providing all-round secure support. So important and guaranteed for safety.
Realization video production - 2021
3D visualizations for website
After the assembly videos were produced, further visualizations should be created, which should show the different roof assemblies. Possible mounting types are in trapezoidal sheet metal, in concrete roofs, or in wooden constructions. And that in each case once with bitumen sheeting and once with roof foil. Since the products as well as most of the 3D elements had already been created in the installation videos and were therefore already available, the 3D visualizations were produced quickly and, after rendering, were directly ready for integration into the website.
Have your own 3D assembly videos professionally created
Do you have products in the field of flat roofs, solar systems, securants, trapezoidal sheets or interesting technical products in general? Do you want to have your products explained and are looking for a 3D animation agency, then we are your partner and will be happy to help you. Contact us and together we will create suitable assembly videos or product videos for you. Exactly tailored to your needs and requirements.
Contact now
Services rendered in creating the assembly video
CAD data import

CAD model creation

Texturing

Storyboard creation

Animation creation

Rendering

Text overlays

3D visualization

Music integration

Post production

Provision in various video formats